Kamal Hamid Bashir is the second boss in frontline commando, he is a commander in the bhakarani air force, and narcotic smuggler in the US. In exchange of drug he recive heavy machine guns. He have appareance of a technical jeep. Altrough it's not know if he is the gunner or the driver.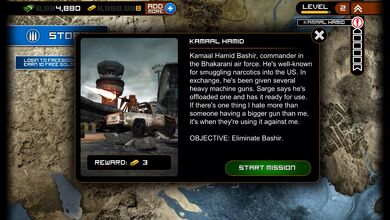 At difference of the first boss , Kamal enter in the battlefield only at the final wave. He spawn at the left corner of the map and he move to the center, then he re appear to the right corner , go to the left corner and repeat it all.
Best tecnique to take him down is shot few hits in the head of the driver ( Hint : every jeep of all tier level have the same healt of driver and gunner, which is very low ), after the death of the driver the jeep will blown up in few seconds.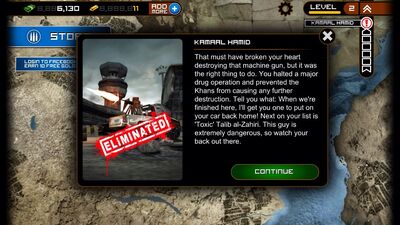 It's don't know if he is the driver of the gunner of the vehicle.
He along with Saboor Al-Amin, Naseem Mousa and Askari Al Musawi are the only Bosses on a  technical veichle.
Also Kamal is the only boss where there is only one technical and not an entire convoy.